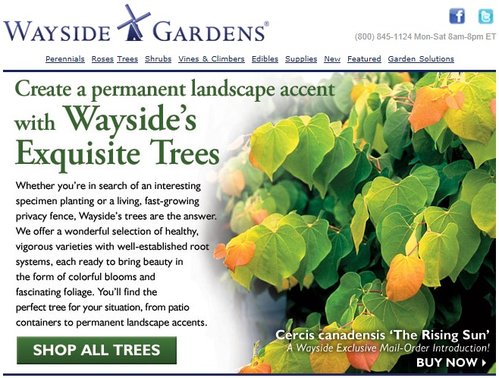 from http://www.waysidegardens.com/
permanent永久的
wayside路邊的's exquisite精緻的 tree
Cercis紫荆 Canadensis "The Rising Sun"
privacy fence隱密籬笆
vigorous精力充沛的,元氣旺盛的,有力的
fascinating迷人的 foliage葉子葉飾
specimen樣本 planting -
Any well-grown plant placed on its own in a prominent顯著的 position where it can develop fully and be admired as a solo performer.
It's easy to remember what "specimen" plants are if you learn the Latin root the word is based upon. The Latin root, spec- means "to look at." Consequently所以, a specimen plant is one you would single out in your landscape as being particularly尤其 noteworthy值得一提, deservin值得g of "center stage" in your yard.
patio天井、內庭院 - A patio (pron.: /ˈpæti.oʊ/, from Spanish: patio [ˈpatjo]; "courtyard", "forecourt", "yard") is an outdoor space generally used for dining or recreation that adjoins a residence and is typically paved. It may refer to a roofless inner courtyard of the sort found in Spanish-style dwellings or a paved area between a residence and a garden.

Patios are typically made of durable surfaces such as bricks, block paving, tile, concrete, or natural paving stones.
參考網址:
http://landscaping.about.com/cs/lazylandscaping/g/specimenplant.htm
http://en.wikipedia.org/wiki/Patio